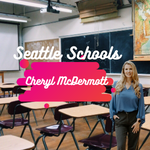 Seattle is known for its strong education system and excellent schools. Whether you're looking for a public or private institution, there are plenty of options to choose from in the city.
One of the top-ranked public schools in Seattle is Garfield High School, which has a long history of academic excellence and a diverse student body. The school boasts a number of advanced placement and honors courses, as well as a variety of extracurricular activities such as sports, music, and clubs. To see how Garfield stacks up visit https://washingtonstatereportcard.ospi.k12.wa.us/ReportCard/ViewSchoolOrDistrict/101080. This site will allow you to see how all public Washington state schools compare. As you research, this is a great first step.
Private schools in Seattle are also highly regarded. The Lakeside School, a prestigious prep school, has a strong academic program and a reputation for producing successful graduates. Other notable private schools in the city include Holy Names Academy and Seattle Academy.
While the schools in Seattle are generally of high quality, it's important to do your research and consider factors such as location, size, and learning style when choosing a school for your child. Don't be afraid to visit schools in person and talk to teachers, administrators, and other parents to get a feel for the learning environment. With a little bit of effort, you can find the perfect school for your child in Seattle.
Navigating the Seattle relocation process can be a daunting task. If you need resources or guidance, please feel free to reach out. I am here to help.