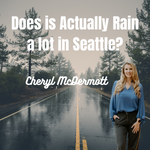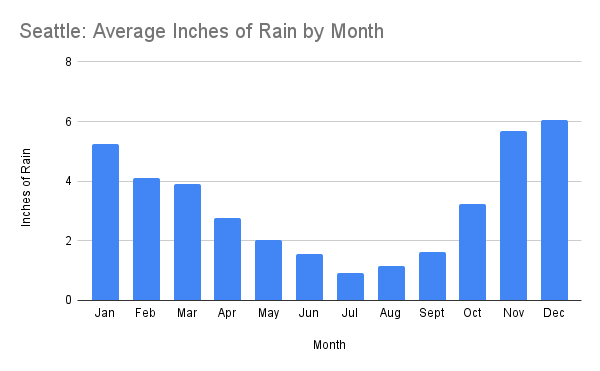 The answer is, yes! We get a lot of rain however, it may seem like we get more than we actually do. In this blog we will discuss the amount of rain Seattle gets, the average temperatures and how to prepare.
Here's a fun fact to get this started, would you believe that Portland Oregon actually gets more rain than Seattle?? Well they do but we have the reputation. Go figure! This reputation is somewhat well deserved if you are living through the months of November and December. Those months are not only rainy but also gray with the sun setting early. The combination of big heavy gray clouds, rain that goes on for days and days ending at 4 p.m., it is understandable why we get called out for our rain. But wait, there are more months than just November and December.
A funny thing happens here as Spring and Summer start kicking in, the Mountain comes out (this is a fun thing we say because on gray days you cannot see Mount Rainier but as soon as the sun shines, it appears again!), the trees have a fresh smell, the green of the forest seems 10x more vivid and every plant seems to be blooming. Every hike is magical and the birds sing of sunny days ahead. As a local, as soon as we get the summer glimpse, the rainy months are just a past memory that is hard to remember.
Before we take a look at how to prepare for Seattle's weather, I would like to talk about our mild temperatures. We rarely get in the 20's, if we do..we are FREEZING! Occasionally snow falls but it doesn't stay for long unless you are in the mountain areas. Our Springs are fresh with cooler temperatures as you can see in the chart below and summer is a perfect 75-85. There is a joke that Summer doesn't actually start until July 4th, it is pretty accurate! Or maybe we are anticipating the beauty that comes along with the summer therefore every day that is overcast, feels like a decade!
Check out this chart for average temperatures by month.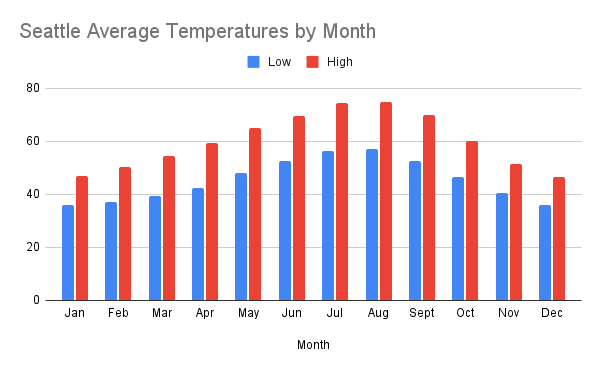 Now on to the fun stuff! How to prepare for this climate. I have a list of tips that may help!
Pack accordingly: Seattle gets an average of 37 inches of rainfall per year, so it's essential to pack a rain jacket and waterproof shoes. However, it's also important to pack for sunshine, as the city can have mild temperatures and beautiful weather during the summer months. Always remember that a hike can and may break out, bring your hiking boots!
Invest in a good rain gear: Rain gear is a must-have in Seattle, so make sure to invest in a high-quality rain jacket, boots and pants. Here I go, talking about boots again. They are essential! We don't use umbrellas too often, so use your discretion.
Learn to love the rain: Embrace the rain and make the most of it. Seattle has plenty of indoor activities to enjoy, such as visiting museums, trying out the city's famous coffee shops, and exploring the local food scene. Most of us do everything in the rain that we do any other time. The rain is different, typically more like mist rather than a downpour.
Take advantage of the city's outdoor beauty: When the sun is shining, Seattle offers plenty of opportunities for outdoor activities such as hiking, biking, and boating. Take advantage of the city's natural beauty and explore the many parks, trails, and waterfronts.
Be prepared for the cooler temperatures: Although Seattle has mild temperatures year-round, it can still get quite cool, especially in the evening and early morning. Pack layers and a warm jacket for those cooler days and nights.
Overall, Seattle does get it's fair share of offers a unique and exciting experience for those who are willing to embrace the weather and all the city has to offer. With its natural beauty, diverse culture, and thriving economy, Seattle is a great place to call home.
Podcast: Play in new window | Download